Art Africa features artists from a diverse backgrounds – from unknown, self-taught, young artists to globally known, internationally acclaimed artists. It is a beauty to see them all work together to drive the vision of Art Africa.
ABLADE GLOVER
Trained in Ghana, the UK, and the USA, Ablade Glover has accumulated many distinctions that underline his significance as an artist and educator, both in Ghana and across the international art scene. Glover's work reveals his vibrant passion for life, activity and colour. Using warm impastoed pigments to express the sun and heat of his country, Glover depicts animated landscapes that mirror the exuberant diversity of Africa: its bustling market stalls, brightly attired crowds, and the dynamic energy that is Ghana. October Gallery first showed the distinctive canvases of Ablade Glover in 1982, in one of the first shows at the Gallery of an artist from the continent of Africa. In 2019, his ninth solo exhibition at the Gallery Wogbe Jeke – We Have Come a Long Way, opened to celebrate his 85th birthday. The universality of Glover's work is reflected in the breadth and variety of his collectors. His work can be found in collections such as the Imperial Palace Collection, Tokyo, Japan; UNESCO Headquarters, Paris, France; Africa First Collection, Tel Aviv, Israel; and Chicago's O'Hare International Airport, Chicago, USA. He has been exhibited extensively in West Africa; Europe; the USA; and Japan. 
LARRY OTOO
One of the most renowned painters in Ghana today, Larry Otoo likes to refer to himself as a "contemporary traditionalist". Born in Accra, Ghana in 1956, his subject matter is inspired by the everyday activities of ordinary Ghanaians. His vibrant paintings in oil and in acrylic capture the rhythm and beat of daily life. He holds a Master's Degree in African Art and Comparative Literature from the Kwame Nkrumah University of Science and Technology. He has been making art since he was a child, when he used to be scolded for drawing in charcoal on the walls. Larry has held exhibitions Africa, Europe, and the USA. His paintings decorate Ghana's presidential suite and Ghana's chancery in Washington, D.C.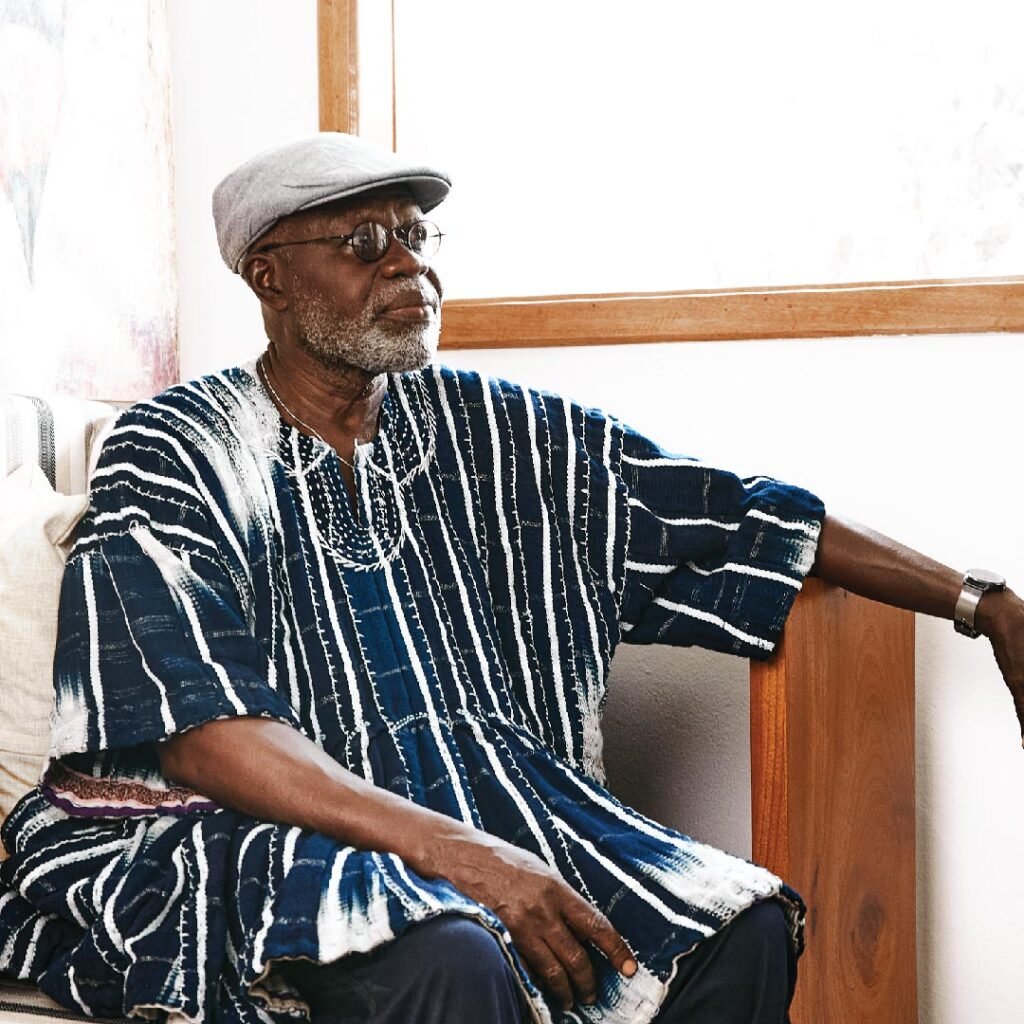 KOFI NDURO
Kofi Nduro creates from sober recollection and imagination, the vibrant movement and every-day life of the African people. His themes are picked from traditional African forms, symbols, womanhood and landscapes. He attended the Ghanatta College of Art and Design and pursued his love for perfection that can be seen through his combination of paint, brush, knife and fingers on canvas. He was born on the 14th of January 1964 in Tarkwa, the Western Region of Ghana.
Kofi's work is widely collected in Africa, Europe, USA and Asia. He works from his personal studio space – Kofi Nduro Studio, Cantonment-Accra.
SETH CLOTTEY
Seth Clottey's paintings embrace and demonstrate his commitment to a wide range of subjects, from market scenes, through beach scenes, city capes and ghetto lifestyles. These are evident in his current preoccupation with the changes around him, changes he feels should be captured and recorded for posterity. A critic once said, "with Seth, you can almost hear the noise of the market or the sound of the traffic in this painting". Seth Clottey is a very gentle, refreshingly quiet for an artist and a good listener with a remarkable eye for detail. Seth's strength is in his quiet disposition and beneath his urbane exterior are a passion and commitment. He also has a fondness in sculpture, which he sculpts himself with eagerness just like his paintings. Seth is mostly self-taught but was inspired by his late uncle, Krotei Tetteh an artist with delicate touch. He, in turn, has a son Serge Attukwei Clottey, a talented artist who is prominent at home and abroad. Seth Clottey was born in 1960 and attended the Ghanatta College of Art in Accra.
GODWIN ADJEI SOWAH
Artist Godwin Adjei Sowah's favourite subjects are city scenes and street hawkers with a focus on women because he is thankful to the many women who nurtured him from childhood. Godwin makes time each week to teach street children living in Cape Coast art and regards this as a small contribution to their future. He attended the Ghanatta College of Art and Design and has his own gallery in Adabraka. Godwin has held various exhibitions in Ghana and abroad.
HILTON KORLEY
Hilton Korley is a self-taught artist, who studied art from his father Martey. He paints across all aspects of concepts including landscape, figures and abstract. He has penchant for painting night scenes and colonial buildings of Accra. Hilton enjoys expressing himself in in oil and acrylic. Hilton was born in Accra in August 1975, attended Teshie Presbyterian High School and part-time tutorials at the Ghanatta College of Art.